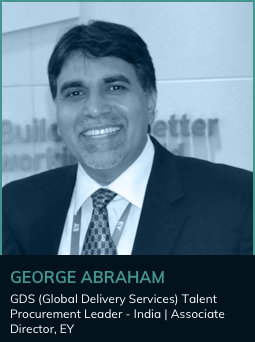 George is currently managing Talent Procurement for GDS India and has been with EY for the past 7+ years leading Procurement Operations.  He has over 24+ years of experience in Supply Chain Management covering Procurement, International Logistics, Material Planning, and Warehousing.
He has been actively involved in Procurement Consolidation at EY GDS India and Process standardization initiatives. George is also engaged in developing RPA – Robotic Process Automation projects.
He is a member of the American Purchasing Society and certified as a CPP (Certified Purchasing Professional) and CPPM (Certified Professional Purchasing Manager).  He is involved with the EY Cares initiatives which promote active participation in Community development and CSR activities.