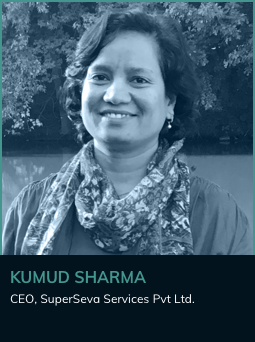 Kumud Sharma, Chief Executive Officer of SuperSeva Services Pvt. Ltd, Bangalore. She is a B.E. (Electronics and Telecommunication Engineering) Graduate from BIT, Sindri and has done General Management Course from Indian Institute of Management (IIM), Bangalore.
Her company SuperSeva is among one of the oldest WEConnect International Certified women-owned businesses in India. It offers a full range of solutions custom-tailored to meet the needs of the organizations, including IT-enabled Concierge Service, Managed Front Office service, Facilities Management Services, track mail – Automated Mailroom management, Asset management Services and Transport management. SuperSeva is headquartered in Bangalore and has a PAN India presence with 6 offices and has an operational presence in 18 cities. Apart from regular 1200+ employees, 400 entrepreneurs have partnered with SuperSeva today who are happily creating and selling their services to SuperSeva's 10 lakhs+ consumers and 200+ corporate clients across the country.
Kumud is recognized by the Rotary Club for her outstanding work in the area of vocational excellence and entrepreneurship. She was the recipient of "ThinkBig 2016 Award for Bringing Innovation at the Workplace". She had also received "Exceptional Women of Excellence Award" at the World Economic Forum 2018. Her hobbies are gardening and painting and she is married and blessed with two lovely children.