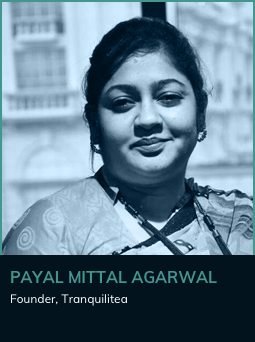 Payal Mittal Agarwal is the Founder of Tranquilitea, a company that celebrates the diverse, rich, and splendid cultures of tea drinking by offering a portfolio of over 35 different blends from across India. Payal was inspired to start her business after a trip to Europe helped enlighten her to the increased demand for traditional Indian teas. Less than a year old, Tranquilitea has already set and achieved ambitious goals for itself, moving towards a mission to make their tea a lifestyle choice for consumers, rather than just a beverage. 
Payal was first introduced to WEConnect International at the ThinkBig 2017 event in India. After listening to WEConnect International CEO and Co-Founder Elizabeth Vazquez speak on the power and importance of supplier diversity, the company connected with WEConnect International's team in India to learn more. 
Tranquilitea is a WEConnect International Certified Woman Business Enterprise, and Payal had been a part of two WEConnect International-India capacity building programs viz. Walmart Women Entrepreneurship Development Program- 2.0 and Proctor & Gamble's Women Businesses Empowerment Program 2018.