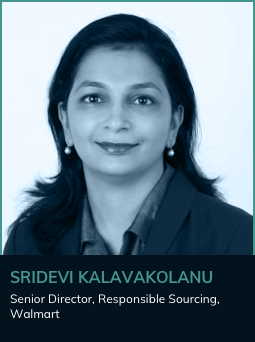 Sridevi Kalavakolanu is Senior Director, Responsible Sourcing at Walmart where she oversees strategy and execution of supply chain compliance in Asia. She is responsible for capacity building, business partner and stakeholder engagement for Responsible Sourcing programs in Walmart China, Japan and India, and Global Sourcing. Her role includes support to key corporate initiatives such as the Women's Economic Empowerment Initiative and the Alliance for Bangladesh Worker Safety. She is a member of the Women's Leadership Council of Global Sourcing and is active in mentoring and professional development activities for associates.
Sridevi has over fifteen years of experience in responsible sourcing and has previously worked with Business for Social Responsibility (BSR) in San Francisco, where she provided training and consulting services to a range of companies in the apparel, footwear, automobile, and energy sectors and with Ashoka: Innovators for the Public in Washington, DC.
Sridevi has a Master's degree in International Affairs from Columbia University, a Bachelor's degree in Japanese from Jawaharlal Nehru University, New Delhi and was a Monbusho Scholar at Tohoku University, Sendai, Japan.