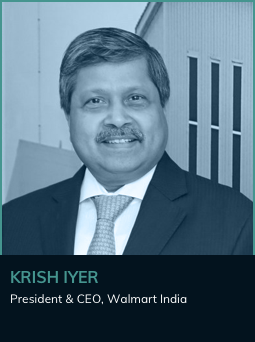 Krish Iyer is the President and CEO, Walmart India. He joined Walmart International as a Senior Vice President in 2012. A long-term retail professional with global retail experience, he brings significant management and leadership experience to his present role.
Krish has over three decades of rich experience in varied fields such as finance, marketing, retail & general management. In the field of retail, he has gained significant global experience over the last sixteen years in various countries such as Hong Kong, Philippines, Taiwan, Thailand, Japan and USA in addition to India. Rior to joining Walmart India, he had served in leadership roles at A.S. Watson Group, Piramyd Retail Limited and  Piramal Enterprises.
Krish is Chairperson of National Executive Board of AMCHAM India (American Chamber of Commerce in India), Member of Advisory Council of USIBC, Chairperson, India Food Forum, Chairperson of FICCI Retail & Internal Trade Committee, Member of FICCI National Executive Committee, Member of CII committee on MNCs, Member of the National advisory Council of RAI (Retailers Association of India), Member of National Advisory Council of Enactus India and Advisory Council Member of Smile Train India. He has also been the Founding Member of Retailers Association of India.
Krish has a Bachelor's of Commerce (Hons.) degree from the University of Mumbai, India and is an Associate member of the Institute of Chartered Accountants of India.