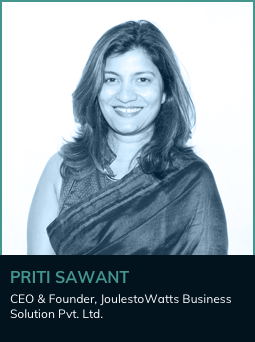 Priti Sawant is a talent industry expert with two decades of experience in providing disruptive solutions to the industry.
She is widely recognized for her role in charting the growth of IT contract staffing in India and defining path-breaking staffing models for Fortune 500 technology companies.  As a Magna Infotech CEO, she was instrumental in steering the early-stage company to India's first largest staffing firm worth 500 crore.
Priti single handedly started JoulestoWatts Business Solutions and it is today marching towards 100 crore revenue company in a short span of 2.5 years. JoulestoWatts popularly known as J2W has been the fastest growing company with 2500+ employees and serving 90+ clients consisting of large captives, services and product companies.
Priti with a mission to change the entire face of staffing started JoulestoWatts Business Solutions in 2015. With her thought leadership on talent challenges, she introduced innovative model like Just In Time Talent solution for the clients. J2W has seen 100% growth year over year due to differentiated solutions.
J2W Premier Lounge is a brain child product of Priti Sawant, which provides a disruptive solution through Just in time or On demand talent in the niche and senior technology space. J2W Premier Lounge has been highly appreciated and Priti's innovative solution has won "We Innovation" award among hundreds of nominations. We Innovation award was announced during the "Think Big" event, which was held in partnership with NITI Aayog and WeConnect International.
J2W also won "India's 50 most exciting startups" award for its accelerated growth and differentiated solutions. Priti having the motto of Client First, has changed the way talent is managed on a project with J2W Premier Lounge service. Today, clients have adopted the new way of talent fulfillment and have been appreciative of the fact that it provides the fastest fulfillment and a more efficient approach to address project talent challenges.
Under Priti's dynamic leadership, J2W has grown multifold and has been on an accelerated growth path every month. J2W has been in positive EBITA in a short span of 6 months due to the excellent setup through technology driven solutions and targeted solutions.
J2W is the first talent management company, which received funding from Manipal Global and Saha funds within six months due to its innovative approach that Priti had brought into the industry.
Priti is CII IWN member and also channels her energies to mentor startups. Priti is a panel member for Texas Instruments 'India Innovation Challenge 2017' conducted in collaboration with IIMB for the last two years. Priti is also TIE Charter Member and has been mentoring women entrepreneurs scale up their businesses. She is a panel member of Nasscom 10000 startups under which she evaluates, guides and mentors the startups.
Priti's leadership in talent industry has been for building the India's largest IT staffing firm and building another which is the fastest growing company.