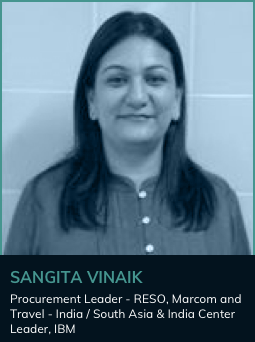 Supply Chain Professional with significant and diverse experience in strategic sourcing and manufacturing domain.
With a professional Experience of 25+ years of Supply Chain Experience; 17+ years of Procurement Sourcing and Operations Experience and 8+ years of People Management Experience. Her varied experience across areas of Production Planning, Maintenance & Manufacturing, Industrial Engineering, Procurement, Facilities Management and Logistics; Management positions in both commercial and internal domains leading cross geographic and cross cultural teams and Commodity Expertise includes Facility Management, Real Estate/Site Operations, Facility Services, Design & Construction, Marcom and Subcontract Services. She has been recognized as the Emerging Women Leader Award in 2016 from CPO Forum (External Forum in India); Consulting Supply Chain Management Professional Appointment from IBM in 2017 and Agile Champion and Agile Practitioner – Advocate
Prior to joining IBM, worked for Delphi Automotive Systems as a Sourcing Strategist managing procurement of all indirect material, have held positions as Maintenance & Manufacturing In charge, in a high growth performance driven 24X7 environment.