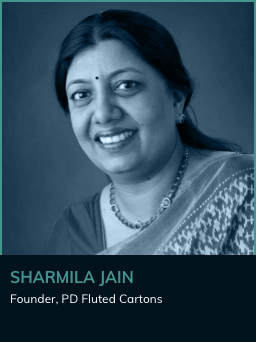 Sharmila Jain is the founder of PD Fluted Cartons, a Hyderabad-based manufacturer of boxes and packaging materials. 
Sensing an niche in the market for good quality medium sized volumes of micro fluted cartons Sharmila who was wanting to get into business to be her own boss seized the opportunity and started the unit in 2001.
She completed the Goldman Sachs 10,000 Women program in 2009.Since graduating from the program, she has worked to improve and upgrade PD Fluted Cartons. The changes she implemented allowed her to turn over stock quickly and improve her company's finances.  She acquired new machines, and with the help of a loan from a governmental financial institution, she has grown her work space
Today Pd fluted Cartons has added another plant for 5 ply cartons and recently has taken an industrial plot nearing 2 acres to start a automatic plant for the same looking at large multinationals as potencial customers.
She represented the 10000 women program in Clinton Global Initiative in New York and has been part of a some panel discussions in Mumbai and New Jerersy Goldman Sach's office.
She has been covered by local newspaper and Huffington Post also had a interview with her during the Clinton Global Initiative
She has also been part of the WEconnect and P&G and Weconnect International training program 2018 held in Mumbai and was leader of the team which won the case study competition